Flexible Transport Solutions
Belengo Flexible Transport Solutions (FTS) deliver immense improvement in fleet efficiency, customer satisfaction and management insight. Belengo's experience in the taxi industry with sophisticated, high-volume dispatch applications and communications led to the development of the Flexible Transport solution.
Previously, fleet operators needed private data networks, proprietary in-vehicle devices and large-scale dispatch systems to efficiently run a fleet. Now with Belengo FTS, a web-hosted dispatch application, off-the-shelf devices and public data networks do the job, without large capital expenditure.
Belengo FTS can register customers, take job bookings, track vehicles, optimize routes, communicate and navigate drivers to their destination. The optimized routes are dispatched to the fleet over a public mobile data network and the drivers are guided to each point via the GPS navigation system. Plus, the web-hosted delivery model means that fleet operators have visibility over multiple fleets and access to performance reports at any time.
Unlike conventional transport services with fixed routes and times, flexible transport services match more closely to customers needs and are much more efficient for the fleet operator.
Belengo FTS is designed for public and community transport operators, shuttle, limousine and paratransit providers, taxi companies and the broader fleet management industry.

Features & Benefits

How does it work?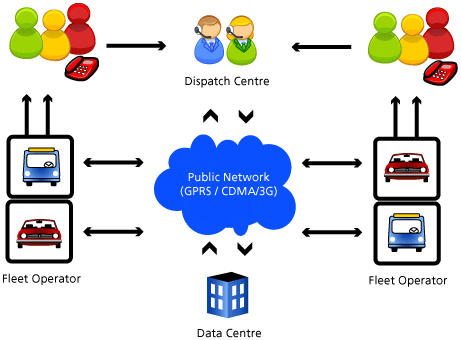 Function
Features
Benefits
Book

Capture customer details.

Automatically checks for duplicate bookings.

Address validation and geo-coding.

Streamline the job booking process.

No double-data entry.

Improved booking accuracy.

Optimize

Multiple pick-up and drop-off points are optimized based on a sophisticated mathematical algorithm.

The route can be re-optimized while in progress to cater for ad hoc pick-up and drop-offs or other changes to the route.

Ensure that the most efficient route is taken.

Customer waiting time is reduced.

Vehicles run more efficiently.

Dispatch

Jobs are dispatched to the closest available vehicle based on the GPS co-ordinates of the passenger and the vehicle.

Customer waiting time is minimized.

Driver "dead miles" are reduced.
Track

Web-based tracking application allows operators to check the location of any vehicle in their fleet.

The actual route driven can be replayed.

Increase visibility of fleet.
Communicate

Voice and data communication between the dispatch centre and the drivers.

Public wireless networks send the encrypted data over the Internet at much faster speeds than existing radio networks, plus there are no upfront capital costs.

Ensure that the base keeps track of the driver.

Driver queries can be quickly addressed.
Navigate

In-vehicle navigation systems guide drivers with turn-by-turn instructions on the route.

Points of Interest can also be accessed and Favourite Routes stored.

Driver has the tools to find even the most obscure address.

Improve driver training.

Ensure that the correct route is taken to improve fleet utilization and efficiency.
Analyze

Track the utilization of the fleet and customer numbers.

In-depth reporting provides the necessary information to efficiently run the fleet.

Analyse fleet utilization

Review the complete performance of the service.

Passenger numbers

No jobs

Driver utilization

Vehicle utilization

Call centre operator statistics

Revenue per passenger/vehicle/driver

Return to top